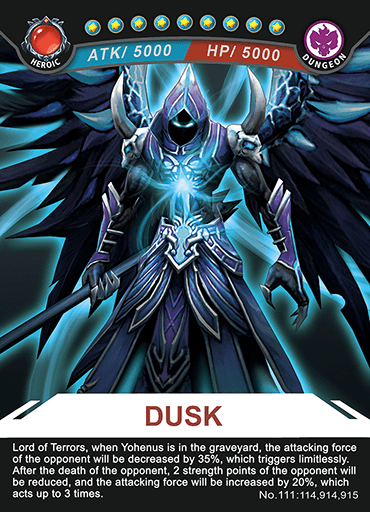 Card Introduction
There has been no record about Dusk in the history books of the Vanchworld, since nobody can be survived after seeing the Lord of Terrors. According to the legend, in the first year of the War of Chaos, the King of the Kingdom Camp had signed an ulterior and mysterious contract with the Lord of Terrors. 
Skill Description
★Refugees from justice:God of Terrors, after there is Yohenus in the cemetery, the attacking force of the opponents will be lowered by 35%, with limitless triggering.
★Swallowing and Killing Spirits:Reducing 2 points of the opponent's energy while killing, and improving the attacking force by 20%, capable of acting for three times at most.

Associated Heroes
Associated Items